col::Callback Struct Reference
This is a functor for collision callbacks. More...

Collaboration diagram for col::Callback: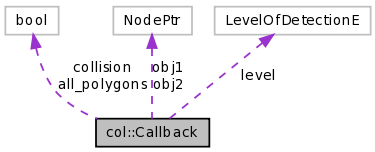 [legend]
List of all members.



Public Member Functions

virtual void
operator() (const Data *data)=0 throw ()
The raison d'etre; this will be executed by the coll. det. module.

Callback (osg::NodePtr obj1, osg::NodePtr obj2, bool always=false, bool all_polygons_in=false, LevelOfDetectionE level_of_detection=LEVEL_EXACT)
Create a collision callback functor.




Public Attributes

osg::NodePtr
obj1
The two objects participating in the collision (or non-collision).

osg::NodePtr
obj2
bool
collision
Tells whether or not obj1/2 have collided.

bool
all_polygons
Tells whether or not the application is interested in all pairs of intersecting polygons.

LevelOfDetectionE
level
Level of detection.

---
Detailed Description
This is a functor for collision callbacks.

Clients of the collision detection module need to derive from this abstract class and overload the () operator.

A callback can be a collision callback or a cycle callback. Collision callbacks are invoked in case of collision, cycle callbacks are invoked at the end of a completed collision cycle. Collision callbacks are only called if one or both of the objects have moved. Cycle callbacks are only called if there has been at least one object which has moved since the last cycle. Collision callbacks get some collision data (see struct Data), cycle callbacks don't.
Author:

Gabriel Zachmann
Option vorsehen, so dass callbacks auch aufgerufen werden, wenn keines der beiden Objekte sich bewegt hat.
Maybe we need an additional class of Callbacks, which can be re-used for several object pairs; this would just mean, that obj1/obj2 would be overwritten by the coll.det. module for every callback actually performed.
---
Constructor & Destructor Documentation
---
Member Data Documentation
---
The documentation for this struct was generated from the following files:
---
Generated on Tue Oct 16 18:12:56 2007 for CollDet by
1.5.2