Finished Theses
This thesis deals with the specification and implementation of a procedural API and programming language that can generate realistic looking asteroids. To achieve this, real asteroids and comets are analysed for their features. For that purpose, the usefulness of Lindenmayer-Systems are evaluated.
Description
This master thesis tried to achieve two goals:
to create realistic looking asteroids and comets
to abstract the generation process to a general programming language
Generation of asteroids and comets
In order to generate asteroids and comets, a feature analysis was performed on pictures of Itokawa, Churyumov-Gerasimenko, Lutetia and Vesta. Then algorithms were defined to replicate these features. These algorithms are then implemented as an API.
Procedural Content Generation Language
A programming language was developed to ease the usage of the procedural API. Furthermore PCGL showed that Lindenmayer-Systems were used to generate procuedural models.
Results
The usage of PCGL showed, that Lindemnayer-Systems could be used for geometry generation. Nevertheless, the usage did not have any benefits over the traditional implementation of procedural algorithms. However, realistically looking replicats of Vesta, Lutetia, Churyumov-Gerasimenko and Itokawa could be generated with the help of the implemented API and its programming language PCGL.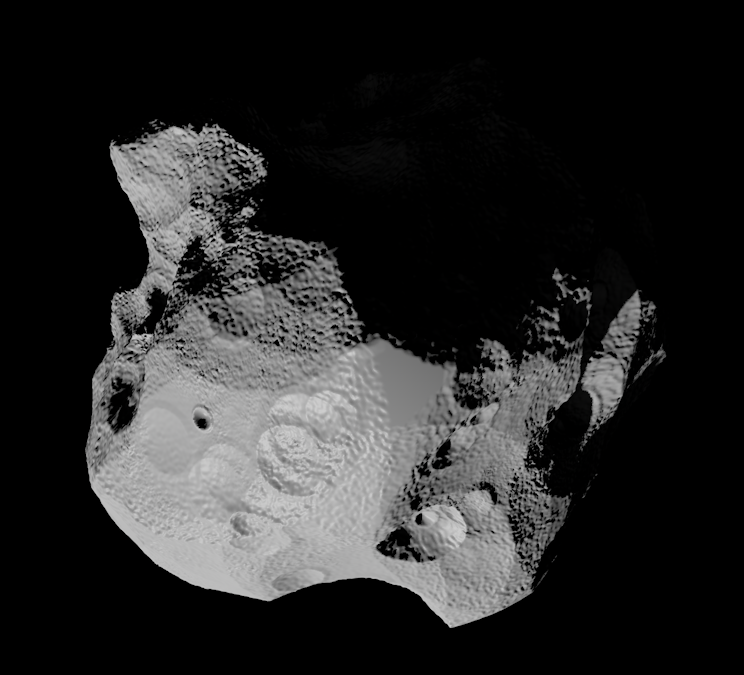 Files
Full version of the master thesis